Preserved Home: Homemade dip can be answer to 'fake news' snacks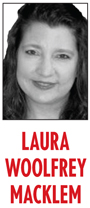 I'm always on a quest to find healthy, unique snack recipes to stave off grumbling because the "there's nothing good to eat" emitting from my children. They like homemade chocolate chia bars, protein bars, vegetables and dip, kale chips, popcorn, strawberries encased in Jello, and smoothies. But I also buy things like chips and ice cream because we do moderation in our house. My kids are fine with premade sweets, fast food and chips, but when it comes down to most snacks and meals, they prefer homemade.
I can't accept it's been a mistake making most food from scratch and preservative-free, but it does have its disadvantages. My children now have radar for pre-made items, such as guacamole, hummus, spaghetti sauce or quiche. I normally make these things from scratch, but sometimes I need a little help from a jar or box on a busy day.
I just can't seem to get away with buying prepared foods, unless it's something like cookies.
My 11-year old took one bite of spaghetti (sauce from a jar) a few weeks ago, and called it "fake news." I thought I was clever one night, buying a premade quiche from Costco and ripping open a bag of salad from the store. I got from both my daughters, "I'll eat it, but it's not as good as yours." I guess I should be flattered, but really it just annoyed me. They will not eat store bought sandwich bread, declaring such an offering tastes like sawdust compared to freshly baked.
I know it sounds spoiled, but it's no different than a picky kid who won't eat their vegetables. However, I have one bit advice for my daughters — you better learn to cook for yourself, otherwise you are going to be mighty hungry when you leave my house. Even my typically non-motivated tween said, "Well, I guess you are right, so I will."
I do like them eating fresh, healthy food, so I'm learning to just make bigger batches of snacks, and even dinners for lunch leftovers. One of my favorite snack recipes is layered Greek dip, which makes a substantial number of servings. Homemade hummus is topped with layers of vegetables, whole Greek yogurt, olives and feta cheese. To keep costs down (and it just tastes better), make your own hummus. I make so many variations with roasted bell peppers, sun dried tomatoes, rosemary — the possibilities are endless.
To make hummus combine in a food processor:
4 cups of chickpeas
1/3 cup of tahini
3/4 cups olive oil
1/3 cup of water
Juice of 2 fresh lemons
4 tsp. of salt
1 1/2 cloves of garlic
Puree all ingredients until desired consistency. Taste, and decide if you need more lemon, water or salt.
Now you have your base. To make the dip, layer from the bottom in this order:
Prepared hummus
1 cup whole, plain Greek yogurt
3 chopped Roma tomatoes, with water squeezed from tomatoes
1/2 English cucumber, chopped
1 cup chopped Greek olives
1 cup feta cheese
We serve this dip with pita chips.
Layered Greek dip is not only good for snacks, but an interesting potluck side, or a light poolside lunch. Full of vegetables, lean protein and healthy fats, this homemade recipe is a home run.
Laura Woolfrey Macklem is a former North County resident who produces the Preserved Home blog. Visit http://www.preservedhome.com.