20 bands slated for this weekend's Encinitas Spring Street Fair
The winter and early spring's unusually stormy weather has cleared just in time for the return of the Encinitas Spring Street Fair on April 29 and 30.
Partly cloudy skies and temperatures in the mid to high 60s are expected in Encinitas for the weekend, according to forecasters. The weekend fair drew upward of 30,000 visitors each day last year, the 101 Encinitas MainStreet Association reported.
Coast Highway 101 will be closed between D and J streets for the event from 3 a.m. to 7 p.m. The fair itself runs from 9 a.m. to 5 p.m.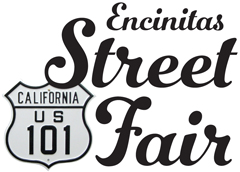 More than 450 vendors will be on hand, according to a 101 Encinitas MainStreet Association news release, plus a Beer Garden, three stages and children's rides. The Beer Garden serves as the event's main entertainment stage and will be open from noon to 5 p.m.
Parking will be available at Moonlight Beach, City Hall and Parking Lot B, located at the southwest corner of Vulcan Avenue and E Street. For visitors arriving by bike, Electra Bike sponsors free valet service at each end of the festival so cyclists can leave their ride at a secure location.
Twenty bands are scheduled to perform at this spring's fair, according to organizers.
Beer Garden Main Stage
The family and pet-friendly Beer Garden — which will feature craft beer from Sierra Nevada, Local Roots, Duck Foot Brewing, Jiant Hard Kombucha,  Boochcraft, Alpine Beer and Greenflash Beer — will feature eight six bands and two DJs during the weekend.
The Beer Garden Main Stage is located in The Lumberyard center at I Street.
Saturday
Noon to 1:15 p.m.: Smokin' Guns.
1:45 to 2:45 p.m.: Resinators.
3:30 to 5 p.m.: Veni Sun.
DJ between sets: DJ Rashi.
Sunday
Noon to 1:15 p.m.: Audio Perdisco.
1:45 to 3:15 p.m. Easy Wind.
3:45 to 5 p.m.: Sensi Trails.
DJ between sets: DJ Juni.
Lumberyard Courtyard
The Lumberyard Courtyard Stage is located in the center of the shopping plaza between H and I streets.
Saturday
Noon to 2 p.m.: Ramblin' Sweethearts.
3 to 5 p.m.: Bobby Detroit.
Sunday
Noon to 2 p.m.: Blame Betty.
3 to 5 p.m.: Cody Carter.
Hansen's Community Stage
The Hansen's Community Stage is located at the north end of The Lumberyard near F Street and will feature a variety of community performers, from local artists to up-and-coming bands.
Saturday
Noon to 1 p.m.: Devine Guitar School.
2 to 4 p.m.: TRUEBLOOD.
4 to 5 p.m.: Yael and Vlady.
Sunday
11 to 11:30 a.m.: Highland Band.
11:30 a.m. to 12:30 p.m.: Swell Band.
12:30 to 1 p.m.: Kehulili Kailani.
1 to 2 p.m.: Fine Tune Academy.
2 to 4 p.m.: School of Rock.
This year's Encinitas Spring Street Fair is sponsored by Ting Internet. For more information about the weekend's activities, visit www.encinitas101.com.

---