Handmade gifts to flower shows: Encinitas holidays nearly a century ago
For Southern Californians, the holiday season is celebrated much like it is elsewhere in the nation, though because of the mild winter weather, surfing and skateboarding replace skiing and sledding.
While these activities may not have been predominant for residents 100 years ago, there are many similarities to seasonal celebrations in 2021.
In 1920, then 12-year-old Anna Helen Eckhardt recorded in her Olivenhain School journal, "In winter we have cold days. It rains … Christmas is the happiest holiday in winter. In winter, we have a lot of fun indoors, while in summer, outdoors."
Modest budgets kept many residents from having suitable protective clothing against the cold, wet winter months, but that didn't mean that there was a break from chores.
Mud was shoveled away after rainstorms, laundry was tended to in the washhouse, and tools were sharpened in anticipation of the upcoming agricultural season.
But because outdoor lighting was limited in the darkest months of the year, adults and children alike could huddle inside to catch up on tasks.
In an interview with Henry Denk in Maura Wiegand's book, "San Dieguito Heritage," he recalled how his grandfather would craft leather shoes from cast-iron molds brought over from Germany.
Women like Frieda Wiegand would prepare holiday treats two months in advance, aging specialties such as fruit cake in wine-soaked rags.
Like children today, students at the Olivenhain School would be tasked with handmaking presents such as tin-can banks, pot holders and trivets, as well as cards.
Teachers weren't forgotten in the gift-giving, as Betty Hewes Sturdevan recalled in Wiegand's book, sharing that each year she gave her teacher a handkerchief.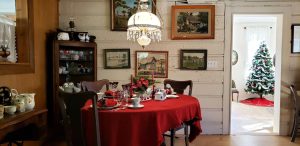 Women in the San Dieguito Woman's Club celebrated the season with a festive gathering. At the Dec. 21, 1931, event, a handwritten record indicates that, "A delightful Christmas party was held … decorations were arranged by Mrs. R and Mrs. L. Simple gifts were exchanged. Several matters were adopted. Club was admitted to the County Federation."
Though the type of presents given wasn't indicated, Encinitas Historical Society President Carolyn Cope suggested that recipe cards may have been among the mix.
Representing the Encinitas Historical Society in an undated "Salute" to the Poinsettia Festival and the Ecke family, Ida Lou Coley shared how Paul Ecke Sr. took to the road to expand their business to wholesalers, retailers and growers.
"Each member of the family has responsibilities in this family business. During the Christmas season especially, there were chores to be done and flower stands to be manned," she noted. "Paul Sr.'s wife, Magdalena, was there to help as well as the children Paul Jr., Barbara, and Ruth."
To celebrate the community's fame as a flower growing capital, events were also held around this time of the year.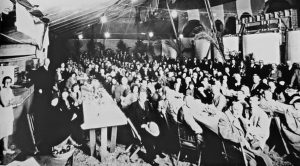 In 1924, Thomas McLaughlin started the Encinitas National Midwinter Flower Show, which in its eight-year run brought residents and out-of-towners alike to view elaborate arrangements and mingle at events such as a dinner held at the site of where The Lumberyard is located today.
Though their beliefs may have varied, people became united in celebrations of the season. As winter brought shorter days and colder nights, they pulled canned goods from their pantries and surely shared excess with those less fortunate. They shared their culture through holiday treats, and folks like the Eckes helped put Encinitas on the map with their poinsettias.
Today, descendants and those who came after do just the same. Whatever changes the next century brings, there is comfort knowing that some things stay the same.
---
Charlene Pulsonetti is a local freelance writer.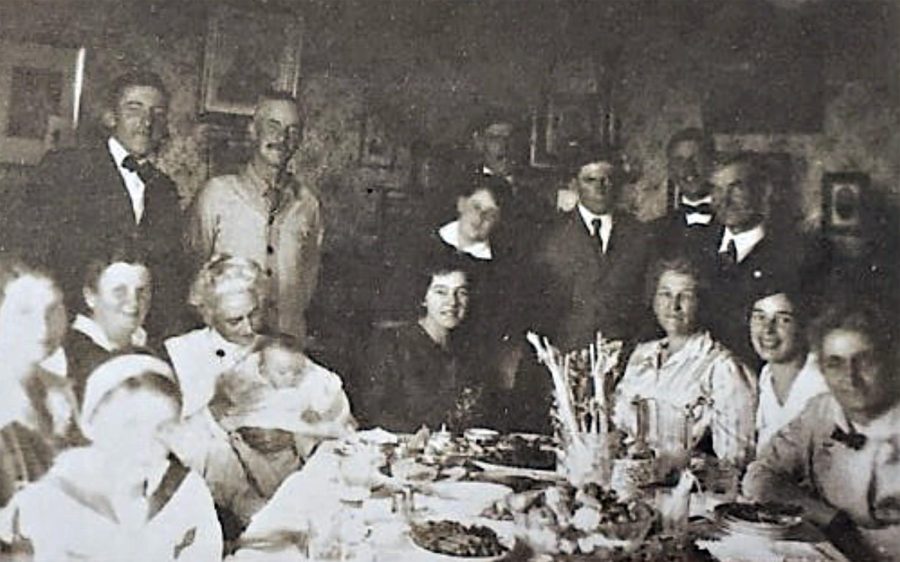 encinitas current, cardiff current