Michele Leivas

September 7, 2016

Filed under Arts, Cardiff by the Sea, Carlsbad, COOL ON THE COAST, Del Mar, Encinitas, Escondido, North County, Oceanside, Region, Solana Beach
Your monthly roundup of events in Encinitas, Carlsbad, Solana Beach, Del Mar, Oceanside and Escondido.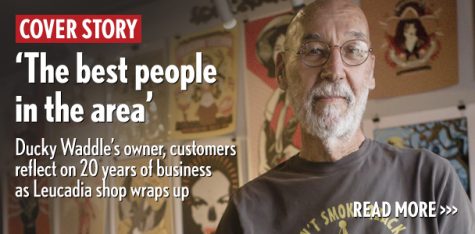 Mike Peterson

September 5, 2016

Filed under Arts, Business, Encinitas, Leucadia, Top Stories
Ducky Waddle's Emporium, a beloved Encinitas institution, will close its doors at the end of September after more than 20 years in business.
May 20, 2016

Filed under CURRENT EVENTS, Encinitas
ENCINITAS — The Encinitas Foodie Fest highlights sustainable and farm-to-table cooking May 21 from 11 a.m. to 4 p.m. Fifteen chefs will demonstrate techniques on three stages and six chefs will compete in a TV-style Best of the Foodie Fest Competition. More than 30 restaurants will also be hand offering...