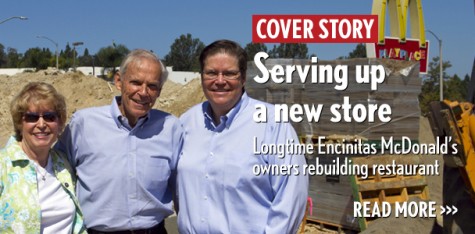 Helen Hawes

September 27, 2013

Filed under Encinitas, Food, Top Stories
Jennifer Howard remembers special days back in the in the late 1970s, when, as a first-grader, she went to birthday parties at the McDonald's up on the hill on Encinitas Boulevard. The fast-food restaurant became a part of her everyday life as she continued to go there for lunch and snacks as an adult,...
North Coast Current

September 2, 2011

Filed under COASTLINE, Encinitas
An apparent gas leak lead to an explosion Thursday night that destroyed the McDonald's restaurant in Encinitas, authorities said. Fire crews were still on the scene early Friday afternoon to survey the damage. The apparent blast lead to a three-alarm fire around 9:30 p.m. Thursday night, authorities...