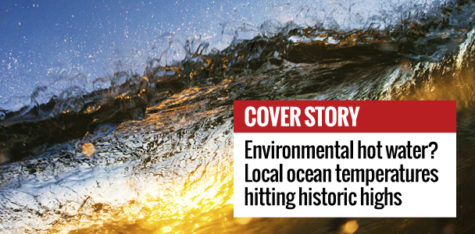 Cameron Niven

August 21, 2018

Filed under Encinitas, San Diego County, Solana Beach, Top Stories
On Aug. 7, Scripps Institution of Oceanography measured the sea-surface temperature of local waters at 79 degrees, which was the highest temperature taken in the 102 years since the institute started taking measurements. Some beaches, such as Solana Beach, recorded water temperatures up to 81 degrees, according to reports. Why are these ocean water temperatures so high? How long are they going to last? How often are they going to arrive? How could they affect future storms and climate?
Layla Marino

October 18, 2015

Filed under Arts, Cardiff by the Sea, Carlsbad, Community News, COOL ON THE COAST, Del Mar, Encinitas, Holidays, Leucadia, Oceanside, Olivenhain, Region, Solana Beach, Theater
It may be unseasonably warm in San Diego County, but fall is still the coolest on the coast. The North Coast has fall fun and Halloween haunts for both adults and family in October, plus the usual stellar lineup of art, music, theatre and lectures, ready to kick off the holiday season in cool coastal st...