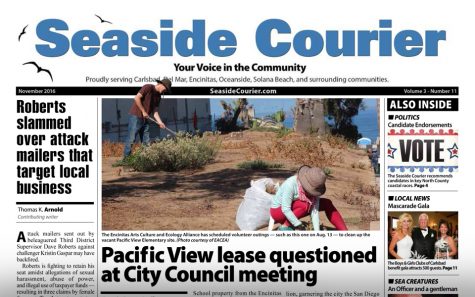 Mike Peterson

January 9, 2017

Filed under Business, BUSINESS NOTES, Carlsbad, Carmel Valley, Del Mar, Encinitas, Media, North County, Oceanside, Rancho Santa Fe, Region, Solana Beach
Seaside Courier, a local print newspaper, is currently on hiatus as its staff decides the paper's future.
June 2, 2016

Filed under Cardiff by the Sea, CURRENT EVENTS, Encinitas, Leucadia, Olivenhain
Community organization Engage Encinitas hosts the next installment of its Citizens Academy series, "Meet the Media," June 9 from 6 to 7:30 p.m. at the Encinitas Library, 540 Cornish Drive. Hear from a panel of local media representatives discuss what they consider their role is in the community and...
Roman S. Koenig

April 11, 2014

Filed under COLUMNISTS, Encinitas, Point of View
Rocks, sand and a glass container. Encinitas City Councilwoman Kristin Gaspar brought teaching tools and a lesson plan for her portion of the State of the City address on April 4 at the Community Center. With a volunteer from the audience, Gaspar used the rocks, sand and glass to illustrate the i...