News Education: Coastal high schoolers passionate about journalism
Jacob Zhang, Torrey Pines High School student and The Falconer editor-in-chief, wasn't well versed in ChatGP — an artificial intelligence chatbot — until he wrote a story about it in his school's publication.
"I really enjoy writing about things I don't know anything about," he says. "(Journalism) exposes you to many new topics you wouldn't have encountered otherwise."
High school journalism programs provide more than just a means for students to share campus news. It's also inspiring them to look at bigger issues, analyzing how they affect their lives and their greater community while encouraging their peers to do the same.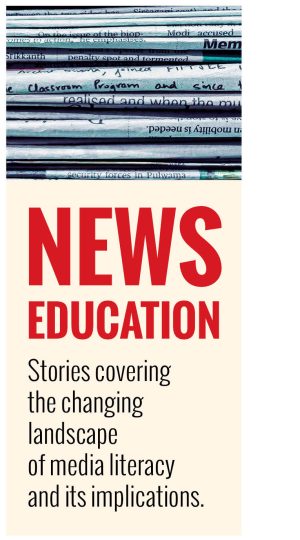 "The kids are enthusiastic about it," says Mia Boardman Smith, adviser for The Falconer. "I think the difficulties and challenges are the ones that all journalists have now — the corporate ownership of the media affects our credibility in the eyes of some, the last administration undermining the credibility of the media as much as it did. We felt the effects of that here, unfortunately, not just among students but among staff members, too."
Helene Gao, assistant editor-in-chief for The Falconer, explains that putting their publication together can be likened to a production. Sometimes, it can be challenging for peers to understand all that goes into it.
"They don't see the nuance and storytelling that comes with journalism," she says. "I think there's a lot of value that can come from the newspaper. We cover a lot of local issues and (campus) issues."
Falconer editor-in-chief Dixie Wallerius adds, "I think that's one of our biggest struggles at this high school because when we do distribute the paper, and it's in those classrooms, it's brushed to the side a bit because there isn't a formal understanding of what the ethics of journalism are and what protections we have under the First Amendment."
The rights of high school students are unique due in part to rulings stemming from Hazelwood School District v. Kuhlmeier and California Education Code 48907.
Not all journalism advisers are industry professionals, and the complexities of the law may leave schools wondering how they could have a program without putting themselves at risk. Organizations such as the Journalism Education Association aim to provide guidance.
"We can recommend training and workshops for advisers to go to. We can pass them to JEA to get a mentor that can really help them," says JEA Southern California president Gaby Doyle.
High school journalism allows students to find their voice in a safe environment.
"I think it's extremely important for teenagers to have an opportunity to shape their worldview and establish their voice," says Canyon Crest Academy journalism adviser Emily Myers. "Our journalism program is very realistic. We have a real magazine posted online for anyone to read. There's not a lot of room to try things out without consequence. On the flip side, that's a great learning experience to help them understand what journalism is."
"
I think it's extremely important for teenagers to have an opportunity to shape their worldview and establish their voice."
— Emily Myers, Canyon Crest Academy journalism adviser
While writing is a hobby for many young people, few are comfortable sharing their words publicly. Still, self-expression is highly valued, and once they open up, students gain valuable social, educational and career skills.
And it leads them to care more about their community.
"These are really bright kids. They follow the news," Boardman Smith says. "When we have story meetings, they bring up stuff even I haven't read about yet."
She adds that her students "have always said they have felt that part of their function as a student newspaper is to make kids aware of issues."
Student journalism expands beyond their own community's microcosm. When Jenna Wilson-Levin, co-editor-in-chief of The Mustang at San Dieguito High School Academy, wrote an opinion piece about the student dress code in 2021, it drew readers from around the web. The comment section, which has 39 replies to date, shows an active back-and-forth, with some commenters stating that the article will be used in their argumentative essays.
Engaging students to read a publication can be a challenge for several reasons.
"During COVID, because we were online, it was harder to garner attention for the magazine," says Canyon Crest Academy student and Pulse Magazine editor-in-chief Kyle Kim. "A lot of last year was getting back on track, even from a printing standpoint and getting staff back to print a magazine."
Their distribution tactics have included visiting classrooms when copies arrived and handing them out during lunchtime.
"We bought a physical newsstand, and we have a student TV (station), so we are working with them as well," Kim adds. "Over time, we can see what sticks."
At San Dieguito, about six editions of The Mustang are printed every school year. In addition, a digital edition is also released, and stories are published regularly through its website.
"
I feel like our print paper really resonates with students and lets us hear their voice."
— Ava DeLuca, co-editor-in-chief of The Mustang at San Dieguito High School Academy
There were troubles last fall when The Mustang was among the many local publications dropped when Advanced Web Offset closed. But, as a result, co-editor-in-chief Ava DeLuca says it's worked out for the best.
"We would have to leave early to pick up (papers); now it can be delivered to us. It gives us more time to focus on the paper," she says.
The Mustang has been around for decades, adviser Yoshi LeaVesseur estimates. This has led to a generational following, which each year students build upon.
"I feel like our print paper really resonates with students and lets us hear their voice," DeLuca says.
Along with covering various topics to catch different interests, additions like a puzzle page and a satire section of the paper have kept readers coming back for more.
Robust programs, such as the high school and middle school broadcast program in the Carlsbad Unified School District, have established a firm foothold on campus and community life.
Carlsbad High School student Makena Hamilton shares that she entered the program at the recommendation of friends and family who were alumni.
"I think the program is a great way to show what's offered on campus and in the community," she says. "It's a great way to tell everyone's story."
By exposing students to different types of journalism, they start to understand its possibilities.
"News isn't just state or national politics," Carlsbad High School teacher and adviser Kurt Kohnen explains. "They get to experience journalism that's relevant to them."
When he first joined the instructional staff, Kohnen was briefly mentored by CHSTV founder Doug Green. He also brings knowledge from working for PBS and NPR.
"This job is a marriage of two things I love — broadcast and teaching," Kohnen says.
Only some schools offer a journalism program, and the formats and funding vary widely among those that do. Many programs rely on supplemental funding, but per CA Educ Code § 49011 (2018), students cannot be required to pay for participation in an educational activity, nor can they be offered privileges or course credit in exchange for donations of money, goods and services. As such, advisers must use caution in ensuring fundraising is voluntary and compliant.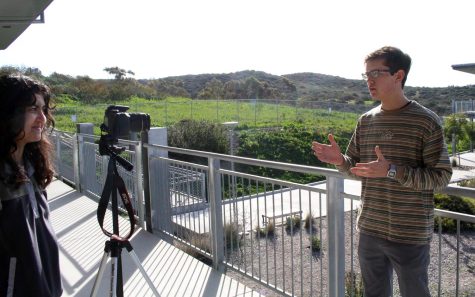 "(On the broadcast side of things), we don't have as much equipment and funding as other schools. We have to make do with what we have," says Sage Creek High School student and The Sage co-broadcast editor-in-chief Austin Jew. "It's difficult sometimes to work without the necessary funding. That's why we try to do more fundraisers."
"We are lucky because we get support not only from the district but also the San Dieguito Academy Foundation," says Mustang adviser LeaVesseur, adding that its budget has been sufficient without the need to rely entirely on ad revenue. "We really try to emphasize the content — we are lucky."
Costs to attend student conferences are also expensive. Fundraising ensures an equal opportunity for students whose parents cannot cover the expenses.
For physical publications, printing is another considerable expense.
While students in introductory journalism classes learn the industry's fundamentals, advanced journalism classes are typically self-sufficient, with older students taking the reins on everything, including the business aspects of their product.
The COVID-19 pandemic has also presented its issues for students over the last few years, but in turn, it's led to more resilient leaders within their ranks.
High school journalism programs are more than just reporting the news — they catalyze change, learning, and building connections.
"I never intended to really get involved with journalism. I was just checking the elective box," Falconer editor Wallerius says. "After being in beginning then advanced journalism, I came to love it, and it's something I'm really passionate about. Not only getting experience but connections and friendships with people on staff made the difference one-hundred percent. I met people I would never have met on campus, and it opened me up to so many different perspectives."
They add that bonding with fellow student journalists over the past three to four years has built a camaraderie.
"We are one big happy family. It's super fun and supportive," she says.
"I love it," DeLuca says. "I think that we have a lot of artistic liberty in our program. We have four pages of the newspaper that are in full color. Students (can express themselves in design). We all work together to help each other; I think that makes this class nice. We're in this together."
For Facloner adviser Boardman Smith, interest in the program has fluctuated but remained strong. Sharing the world of journalism with new students is exciting because when she's teaching, they're "wide-eyed and drinking it all in — that to me is very hopeful."

---
Charlene Pulsonetti is a local freelance writer.