Carlsbad, Del Mar close beaches and parks amid coronavirus concerns
The increasing number of people converging on San Diego recreational areas in the past few days despite a statewide stay-at-home order has led the cities of Carlsbad and Del Mar to close access to beaches, parks, trails and other spots effective Monday, March 23.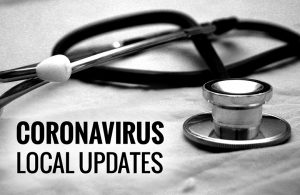 Oceanside announced closures of playgrounds and beach parking lots.
On March 19, the city of Encinitas closed all of its sports fields and courts, playgrounds, skateparks and Maggie Houlihan Memorial Dog Park. Solana Beach had not yet issued similar orders for its recreational areas as of 6 p.m. Monday.
The stay-at-home order, restricting nonessential travel during the ongoing COVID-19 coronavirus outbreak, was issued by California Gov. Gavin Newsom on March 19. County, state and federal health officials have repeatedly encouraged the public to maintain a social distance of 6 feet from one another as well, including for recreational outings.
Over the weekend, however, people converged on beaches, parks and trails, leading the city of San Diego to issue its own order to close access to such public spaces.
The region's state beach campgrounds, such as Cardiff, were closed as of March 17. Moonlight State Beach and other non-camping parks remained open, however.
The San Elijo Lagoon Ecological Reserve Nature Center in Cardiff is also closed.
"Based on an update to the County of San Diego's COVID-19 public health order, cities where people are not following social distancing rules at parks, trails and beaches are advised to close these areas to the public," the city of Carlsbad announced in a statement.
Teams of Carlsbad police officers are monitoring popular gathering spots and nonessential businesses and have been issuing warnings as an educational approach, according to the city's statement. The closures are enforceable by law, however, and subject to citations.
Del Mar issued a similar order on Monday.
"On March 21 and 22, high volumes of people traveled to Del Mar to enjoy the nice weather in the beachfront parks and on the sand," Del Mar reported in its announcement. "Although many citizens are self-regulating and practicing social distancing, the increased number of people gathering on Del Mar beaches and in adjacent parks creates more opportunities for community spread of the virus."
The city closed access to beaches, bluffs, Powerhouse and Seagrove parks, and areas at the San Dieguito River.
As of about 4 p.m. Monday, San Diego County health officials reported 230 positive COVID-19 test results in the region, 17 of them non-county residents. The majority of the results, 62 with 59 being county residents, were between the ages of 30 and 39.
On Sunday, authorities confirmed the coronavirus-related death of a San Diego County resident, a man in his 70s, in Santa Clara County. The man had traveled to Hawaii.
"Please, I implore you, to not gather with any non-household groups," County Public Health Officer Dr. Wilma Wooten said in the Sunday update. "Please adhere to the six-foot social distancing rule when you are in areas with non-household members."
encinitas current, cardiff current