Preserved Home: Mexican-style rice recipe recalls fond memories of Fidel's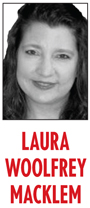 It's possibly nervy thinking I have anything to serve up Southern California's community in terms of a Mexican rice recipe, but I absolutely do. I might not have an abuela who passed down authentic Mexican recipes, but I grew up in Southern California, and know what good Mexican rice tastes like.
The standard for me was set years ago at Carlsbad's Fidel's Mexican Restaurant. It's now called Norte, but to some of us, it will always be Fidel's.
It was always a treat, going to Fidel's. Their chips were hot and crunchy, and we ravenously scooped as much poblano sauce as possible on our chips. As you can imagine, there was bickering about who wasn't saving enough for others, while my family of four all jockeyed for a position near the bowl.
For dinner, I always got the enchiladas, which were so enormous, I only ordered half. It truly is the best Mexican food I've ever had, including the cuisine I've had in Mexico. Even though the servings were large, everyone would order a side of rice because we could not go without.
Growing up, Mexican rice popular in American homes, although good, didn't resemble the tasty offerings in great Mexican restaurants. The American version is more saucy, has green peppers and ground beef, and sometimes corn.
Mexican rice at Fidel's was full of flavor but wasn't saucy. The texture is hard to describe, but sometimes the red-stained grains stuck together, accented by little translucent pieces of onion. There was just enough sauce to give it flavor. It was perfect. More than 30 years later, I've been able to duplicate what I remember enjoying, and now my family of four fights over who gets rice as leftovers the next day.
Over the years, I've learned cooking your rice or pasta in broth rather than water imparts a world of flavor. I do the same with quinoa. I can't be sure, but I'm thinking that's what the brilliant chefs at Fidel's did for a great flavor base. I've also found baked rice to be superior in texture, and as a bonus, it's easier.
Because I no longer live in Southern California, I don't have the pleasure of dining at Norte's unless I'm visiting family, but I've done my best to bring the flavor to my kitchen, and to resurrect memories of that great Carlsbad restaurant by the sea.
Fidel's Style Mexican Rice
2 1/2 cups of uncooked white rice
4 3/4 chicken stock
1/2 cup tomato sauce
1 large clove of garlic, minced
1/4 cup minced onion
1/3 cup vegetable oil
1/4 tsp chili powder
1/4 tsp cumin
1 tsp salt
Pre-heat oven to 350; grease 9×13 casserole
Combine all ingredients, and cover tightly with foil. Bake an hour. When you pull from the oven, the onions and some sauce might have floated to the top, so fluff the sauce back into the rice. Don't peek before the hour, as you will let valuable heat escape.
Laura Woolfrey Macklem is a former North County resident who produces the Preserved Home blog. Visit http://www.preservedhome.com. Send questions and comments to [email protected].