Alex Groves

January 23, 2015

Filed under Cardiff by the Sea, Carlsbad, COASTLINE, Encinitas, Leucadia, Olivenhain, Politics, Region, San Marcos, Solana Beach
At the start of a new year, city officials across North County are attempting to prioritize issues and come up with comprehensive solutions to challenges associated with growth and an improving economy. Many cities are also trying to determine the best way to finance projects while being fiscally...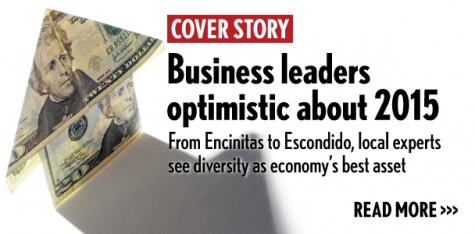 Alex Groves

January 22, 2015

Filed under Business, Cardiff by the Sea, Carlsbad, Encinitas, Escondido, Leucadia, Olivenhain, Region, San Marcos, Solana Beach, Top Stories
With 2015 underway, officials in North County say they see good things in store for business and the region's economy overall. But in spite of noticeable gains in sales tax revenue, increases in chamber of commerce memberships and other tell-tale signs of a prosperous economy, some leaders in the...